Deaf people have serious difficulties accessing basic healthcare services and their needs are being ignored.
Thirty per cent of deaf people in the UK are unemployed, permanently sick or disabled, according to the 2009 GP patient survey. This is three times higher than the general population. Fundamental issues lie at the heart of this statistic. Deaf people have serious difficulties accessing basic healthcare services and their needs are being ignored.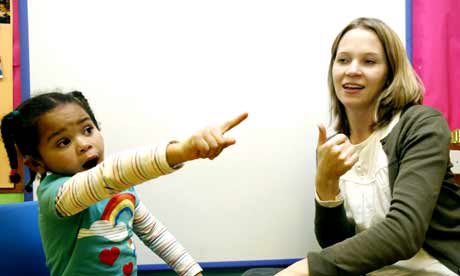 At SignHealth we continually hear anecdotal tales of appalling practice in the way deaf people are treated on the NHS, but it's hard to get the exact detail. Some of our worst fears have been confirmed through a mixture of our own access report, statistics from the GP patient survey and anecdotal evidence.
Deaf people are facing constant difficulty with telephone appointment booking systems, verbal prompts when their doctor is ready to see them, and rarely have a clear understanding of their diagnosis and treatment. We have also found examples of GPs refusing to book interpreters because they cost too much and people not understanding their medication and taking the wrong amount.
Waiting times for interpreters in GP appointments is a massive problem. At the moment many people have to wait weeks to book a sign language interpreter who can make sure the patient and clinician are able to clearly communicate. There is an obvious link between these delays and poorer general health.
Some doctors argue that interpreters are unnecessary because a member of the family can interpret but this has clear confidentiality issues. You only have to hear one story about a deaf parent being given a diagnosis of terminal cancer through the sign language translation of their eight-year-old child to appreciate quite how wrong this is.
We recognise that there are not enough sign language interpreters and bookings can be difficult, but simple technologies are available to help.
We are urging GPs and hospitals to start using the online sign language interpreting service SignTranslate. This means that deaf people can have same day appointments with their doctor connecting via a remote interpreter at the click of a mouse.
There is also a strong cost-saving argument to solving these communication problems. Bad communication means deaf people have to see their GP on many more occasions than their hearing peers. Estimates put the number of additional appointments made by deaf people at around 625,000. With an average appointment costing £25, this equates to £15.6m each year. Research to date suggests that spending a fraction of this on making services more accessible will save the NHS millions.
The GP patient survey shows that deaf people are still the most misunderstood patient group. We can see that deafness has a profound impact on people's wellbeing and general contribution to society and this is significantly worse than other minority groups.
At SignHealth we're committed to highlighting these inequalities and bringing about improvements. Later this year, we'll be leading a collaborative study into the health of deaf people. This will be the largest piece of research ever carried out in this field and we urge deaf people to register now on www.iwantbetterhealth.org.uk to bring about the changes that are so desperately needed. •
Steve Powell is chief executive of SignHealth, the healthcare charity for deaf people
Source: The Guardian